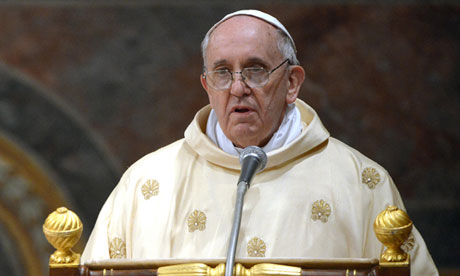 Pope Francis (formerly Cardinal
Jorge Mario Bergoglio of Argentina
by Shannon R. Haas
srh4christ.blogspot.com
03/17/13
Coming from a background as a former Catholic, it is of great interest to me that we have the first
Jesuit Pope
. I have been listening to much talk radio in the last few days from both Christian and Catholic networks. I normally do not tune into Catholic news radio; however, last week was of interest to me to hear what Catholics were saying about the new Pope Francis. What has surprisingly stood out among the priests and other Catholic figures interviewed has been a lot of talk about how the new Pope is of the Jesuit Order.
The Jesuit Order (also known as the Society of Jesus)
was established around 1537-1540 by Ignatius Loyola of Spain under
Pope Paul III
for the expressed purpose of undoing the
Protest Reformation
(by the Protestant Reformers:
Martin Luther
,
John Hus
,
John Calvin
, etc.). After Loyola gained papal approval, he, along with 6 most trusted associates, continued to recruit Jesuits throughout Europe (and eventually the world),
building schools, colleges, and seminaries
.
It has been said by a few experts on the Jesuits that the Society of Jesus is
more of a military order within the Catholic Church that answers to no one but the Order itself. Some would sum up the Jesuit Order's agenda like this: "to stamp out biblical Christianity (through the Counter-Reformation) and subdue the world to the Pope and the Roman Catholic Church."
The Jesuits have become so powerful that many within Catholicism have come to greatly fear and respect the Order (some would testify on record that the Order has even assassinated popes for the Jesuit agenda). The rather chilling Jesuit Oath can be read
here
.
In recent months and weeks, we have heard of quite a few Jesuit figures in key government positions around the world (such has our new
CIA director here in America, John Brennan, being Jesuit trained
). It has also been recently said that
President Barrack Obama was a close associate of a Jesuit
that assisted in his election, and that the
President of the European Union is Jesuit trained
(to name a few).
Ignatius of Loyola
The most exhaustive 4 hour documentary on the Jesuit Order by
Chris Pinto
and
Brannon Howse
can be
obtained here
. They argue with solid documentation that the Jesuits have infiltrated the system by design, and focus primarily on politics, social justice, education, the press, ecumenicalism, dominion theology, the pulpits, mysticism, etc. A recent article from
The Huffington Post stated that Pope Francis "Considers social outreach, rather than doctrinal battles, to be the essential business of the church"
(which is a veiled way to say in other words that truth revealed in Holy Scripture is to be laid aside for the sake of ecumenicalism).
When listening to Catholic radio last week, I heard some rather shocking discussion and found it amazing how much one can learn by listening to the priests and Catholic commentators themselves. On Thursday, March 14
th
, I was listening to Relevant Radio (a Catholic station out of Milwaukee, WI) and heard some rather stunning comments made by a Jesuit priest (guest on the
program, A Closer Look, hosted by Sheila Liaugminas
). The Jesuit being interviewed by Liaugminas was Father Joseph Fessio, founder and editor of
Ignatius Press
and former student and friend of 40 years to Father Joseph Ratzinger (former Pope Benedict XVI).
Father Fessio of course praised the new Pope and his achievements, and then went on to say that the media and world have been deceived into believing that the Pope chose his papal name on the sole account of St Francis of Assisi. He stated that Francis of Assisi was not much more than a "smokescreen" and the name Francis was actually chosen in admiration to
Jesuit General Francis Borgia
(and
General Francis Xavier
-1 of 6 auxiliaries chosen personally by Ignatius Loyola). Fessio continued by saying several times that the Jesuits are "sly and crafty" and that the Popes during Borgia's time were "horrible." To listen to this radio program on Relevant Radio and hear these comments made by Jesuit Priest Fessio, you can go to their archives and download the program for
March 14, 2013 – 'Getting to Know Pope Francis' here
.
(Pick up the time at 36:00 minutes into the program to go directly to the Fessio conversation).
Official Symbol of the
Society of Jesus
I find it interesting and a bit disturbing to know that a Jesuit would come out and openly admit that the Pope is clever in deliberately misleading the masses to believe that St. Francis of Assisi is his sole papal name. This is a classic tactic of any secret order or society in that their titles and symbolism usually have multiple levels of interpretation. We see this repeatedly in Free Masonry and Rosicrusianism.
The Pope quoted on Twitter last week St. Francis of Assisi's alleged message from Jesus saying, "Francis rebuild my Church"
but has said nothing in regards to Francis Borgia, Francis Xavier, etc. I believe he is indeed using Assisi as a "smokescreen" to take the average individual off the real agenda of his commitment and oath to the Jesuit Order. A few days ago I heard another priest on the same Catholic radio network say jokingly with a laugh, "Finally we have a Jesuit loyal to the Pope." I believe this speaks volumes.
In conclusion, I believe that the Jesuits are a dangerous Order and the fact that we have a new Jesuit Pope of the Roman Catholic Church should be of concern to Bible-believing Christians and the world. As Christians, we should not withdraw in fear, but be open in exposing the Jesuit Order and using the opportunities and resources available as a springboard in presenting
the biblical Gospel
of faith and repentance alone (and showing these events in light of Bible prophecy).
(Ephesians 2:8-9)
.
The Roman Catholic gospel is a damning, works-based gospel that cannot save. Jesus said it well in John 17:17, "Sanctify them by Your truth. Your
word
is truth." He told the Pharisees of His time, "…Well did Isaiah prophesy of you hypocrites, as it is written: This people honors Me with their lips, but their heart is far from Me. And in vain they worship Me, teaching as doctrines the commandments of men…making the word of God of no effect through your tradition which you have handed down. And many such things you do" (Mark 7: 6-7, 13). It is clear throughout NT Scripture that only through Christ and obedience to His Word alone can one be saved.
Shannon R. Haas - haas.shannon@ymail.com
Note:
I do not recommend Wikipedia as always a reliable source of information (in links above), but for general information purposes. One must do their own research from various sources and come to their own conclusions.