by T. A. McMahon
-
Article Link
-
thebereancall.org
Oct 1 2013
The entire Bible is prophecy, with God both telling forth and foretelling . God's telling forth through His prophets includes all that He wants mankind to know and do, including His attributes, His commandments, His instructions, His corrections, His blessings, and so forth.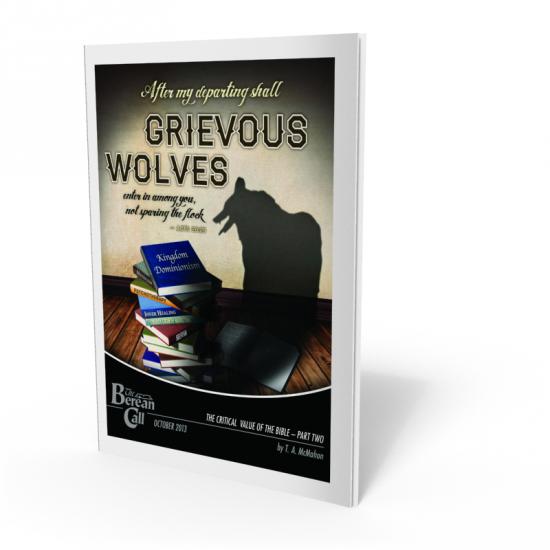 Beyond the aspect of proving that God exists and that His Word is His direct communication to mankind (as we noted last month),
foretelling
is a way that God informs and in some cases warns His people of things to come. Two examples among hundreds that could be given from the Old Testament are in Genesis 15, in which God tells an aging Abraham that he will have a son and that his descendants (some 400 years later) will take the land that God promised to him, and Jeremiah 25, which contains God's prophecy of the Babylonian captivity of the Israelites that would last 70 years.
The New Testament contains hundreds more prophecies, many of which have come to pass, with some yet to be fulfilled. They all underscore the critical value of the Bible for the upcoming generation. How so? Well, it's pretty simple.
If a believer reads the Bible consistently and diligently (meaning seriously, and not in a "here a verse there a verse, whenever the mood strikes" manner) and is not being spoonfed but is feeding himself on the Word of truth, he will be acutely aware of prophetic events when they take place in his lifetime or as they begin to make their appearance. Without such an awareness, a believer becomes vulnerable to seduction by unbiblical movements, teachings, practices, and agendas that may appear to be good but are, as we are told in
Proverbs:14:12
, "…a way which seemeth right unto a man, but the end thereof are the ways of death." Death in Scripture doesn't always mean physical death, but it does always involve separation. In physical death, the soul and spirit are separated from the body. In the proverb just quoted, it means a separation from the truth.
As a consequence, deception runs rampant because without the knowledge of what the Bible clearly says, a believer won't recognize the unbiblical agendas mankind is promoting. For example, the world is into different forms of preserving and restoring the planet, from warnings of so-called global warming to the promotion of population control to worries regarding a dwindling food and potable water supply. These issues are high on the world's agendas because the earth's survival is their only hope. That's all that the world has with regard to the future.
Biblical Christians should also have concerns about the stewardship of the land that God has blessed us with, but within the context of what the Bible teaches will take place. Then why do most professing Christians support or conform to various restoration agendas that are at odds with what the Bible teaches?
For example, amillennialists, those Christians who reject the literal thousand-year reign of Christ on this planet, see the earth and the Kingdom in the process of being restored before Christ physically returns. The claim is that Satan has been bound and that things are getting better and better. Amillennialism is the most common eschatological belief among professing Christians. It is the doctrinal view of Roman Catholics, Greek & Russian Orthodox, Lutherans, Presbyterians, Anglicans, Episcopalians, Church of Christ, some Independent Baptists, and most Calvinists (with some notable exceptions).
Kingdom/dominionists, most of whom are charismatics and Pentecostals, believe that Christ cannot return until His Kingdom is restored through an army of new apostles and prophets. They declare that those positions are being filled by the young people of the upcoming generation.
Then there are those Christians who are into other forms of restorationism such as Rick Warren's Global P.E.A.C.E. Plan, the social gospel of World Vision, and the Religious Left's socialism (aka Progressive Christianity). The goal is to solve the world's problems of poverty, social injustice, environmental abuse, and political corruption through religious ecumenism and political activism. As the church seeks to correct the so-called social injustice in the world, there has been an increase in the support of "Christian Palestinianism" by young people. Some very influential evangelical leaders are accusing Israel of being an illegitimate government in the land that belongs to the Palestinians. This is the slippery slope that fosters anti-Semitism. In the words of arch heretic, former Archbishop Desmond Tutu, "We want to see an end of the Israeli occupation of Palestine and the oppression of its people."
The Scriptures are completely barren of support for any of those agendas. What all of these movements have in common is a shared view of the Bible in one or more of the following ways: 1) ignorance of its teaching, or 2) distortion of the Word to accommodate their agendas, and/or 3) rejection of its teachings as God's words. If a believer is unaware of the eschatology of the Bible (the teachings of the end times, which are hardly complex or esoteric), he or she could find themselves in the position of actually contributing to a program or agenda that is contrary to what the Bible says will take place.
For example, the biblical timetable tells us that the next kingdom on earth will not be the Kingdom of Christ but the kingdom of the Antichrist , which will last for seven years. So, am I implying that some Christians, including true believers, may be supporting the development of the religion and kingdom of the Antichrist? No, I'm not implying such a thing; I'm saying it straight out—because that scenario is already taking place. And the fundamental reason that such Christians have been seduced into working for the Adversary is because they don't know what the Bible says because they are not reading the Bible. Or they are not believing what they are reading and consequently they are not doingwhat it says.
In our August newsletter, the feature article is a reprint from Dave Hunt's book
Countdown to the Second Coming
. In it, Dave points out some characteristics of the Antichrist that most people don't realize. The Antichrist won't first appear as, in Dave's words, "a sinister man who exudes evil from every pore." He will be Satan's human masterpiece transformed into an angel of light and a minister of righteousness, the ultimate false Christ. The Scriptures teach that true believers will be raptured before the Antichrist is revealed—so, no worries, right? Wrong. The preparation of the religion and the kingdom of the Antichrist, which precedes his being revealed, has been in the works since Satan's deception and seduction of Adam and Eve in the Garden of Eden. And it is increasing in our day at an exponential rate. This is what Jesus indicated would take place when His disciples asked Him about the last days just prior to His coming. He characterized those days with this warning: "
Take heed that no man deceive you
" (
Matthew:24:4
). In verse 24 He adds, "
For there shall arise false Christs, and false prophets, and shall shew great signs and wonders; insomuch that, if it were possible, they shall deceive the very elect
."
Jesus' words in
Luke:18:8
give us further confirmation that the apostasy will be in full bloom at His coming: "
Nevertheless when the Son of man cometh, shall he find faith on the earth?
" The Apostle Paul gives us a major reason why the apostasy will develop at an astonishing rate: "
For the time will come when they will not endure sound doctrine; but after their own lusts shall they heap to themselves teachers, having itching ears; And they shall turn away their ears from the truth, and shall be turned unto fables
" (
2 Timothy:4:3-4
). They (meaning some and possibly most Christians) will not endure sound doctrine, that is, the teachings of Scripture. That being the case, they are going to buy into whatever feels right to their flesh. They've obviously drifted away from God's Word (
Hebrews:2:1
), often a consequence when one's manner of living conflicts with the Bible's admonitions. In any case, they have rejected the truth, or they may never have known it in the first place.
Paul's words of warning to the Ephesian elders (
Acts:20:27-31
) couldn't be more applicable for a time such as ours when biblical discernment is more necessary than ever. Let's consider these verses line by line and pray that the Holy Spirit will help us to take them to heart and show each of us how we can apply them.
27: For I have not shunned to declare unto you all the counsel of God .
All the counsel of God is found from Genesis through Revelation. If we're not familiar with it, it won't help us.
28: Take heed therefore unto yourselves, and to all the flock, over the which the Holy Ghost hath made you overseers, to feed the church of God, which he hath purchased with his own blood .
We may not be overseers of a fellowship, but we might be dads, granddads, moms, grandmas, big brothers, big sisters, aunts, uncles, those who have some responsibility or at least the opportunity of spiritually feeding their own flock.
29: For I know this, that after my departing shall grievous wolves enter in among you, not sparing the flock .
The gravity of Paul's concern here is underscored by his choice of words, inspired by the Holy Spirit: "grievous wolves…not sparing the flock."
30: Also of your own selves shall men arise, speaking perverse things, to draw away disciples after them .
A mob of highly visible leaders who call themselves evangelicals but who are "speaking perverse things" (unbiblical teachings and practices) are working overtime to draw away disciples after themselves. Many of those who are being seduced are our brothers and sisters in Christ, young and old alike.
31: Therefore watch, and remember, that by the space of three years I ceased not to warn every one night and day with tears .
I used to think, Paul…what's your problem? You don't have to deal with TBN…Charisma Magazine and Publishing…The New Apostolic Reformation…Christianity Today (or more often, AntiChristianity Today)…so-called Christian Psychology…Replacement Theology…Charismania…Hyper-Calvinism…The Emerging Church…Latter Rain/Manifest Sons of God…Joel's Army…The Contemplative Movement…The Message "Bible"…The Purpose-Driven Marketing Movement…The Christian Right…The Christian Left (Progressive Christianity, as mentioned) …and on and on and on…. Then it dawned on me what I had missed. It's not primarily what Paul had to deal with, but it's his heart in this for his brothers and sisters in Christ. It's his love for his fellow believers who could be seduced and have their faith shipwrecked and their fruitfulness devastated. That should cause all of us to search our own hearts as the apostasy ensnares believers, particularly those in our upcoming generation. I hope and pray that we will search our hearts regarding Paul's tearful plea.
I also covet your prayers for the spiritual success of the Bible Survival Series. Obviously, the spiritual outcome for the upcoming generation does not depend upon it. But that's not our deal—it's God's. We are simply planters and waterers. As Paul writes in
1 Corinthians:3:7
, "
So then neither is he that planteth any thing, neither he that watereth; but God that giveth the increase
."
The things that are taking place in the world and in the church do seem, at times, to be overwhelming. That's because they are overwhelming and the situation is getting worse. But again, that's God's problem, not ours. He can handle it. We can't. He could turn it all around. We can't. Although I don't see any indication from Scripture that this is part of His plan before Christ returns, He nevertheless has given us work to do, which I believe is essentially a rescue operation . We're to go about informing people of God's truth wherever and whenever He provides the opportunities. It will not be by our own might or power but by His Spirit. Whether young adults or anyone else, we are only going to reach those who are willing to receive the truth. That may mean one or a few at a time, whether it's believing the gospel for salvation or saving a person from a false teaching that destroys his or her fruitfulness.
Knowing and doing what the Bible says is at the heart of its critical value. Yes, true faith is drying up all over the world, just as Jesus declared would take place prior to His return. On the other hand, the psalmist, in Psalm 1 gives us the prevention program that will keep us spiritually hydrated:
Blessed is the man that walketh not in the counsel of the ungodly, nor standeth in the way of sinners, nor sitteth in the seat of the scornful. But his delight is in the law of the LORD; and in his law doth he meditate day and night. And he shall be like a tree planted by the rivers of water, that bringeth forth his fruit in his season; his leaf also shall not wither; and whatsoever he doeth shall prosper. The ungodly are not so: but are like the chaff which the wind driveth away. Therefore the ungodly shall not stand in the judgment, nor sinners in the congregation of the righteous. For the LORD knoweth the way of the righteous: but the way of the ungodly shall perish .
The Bible's encouragement in this psalm or anywhere else throughout God's Word is not altered by what the world or the Adversary is foisting upon believers. It is only conditional upon a believer's obedience to diligently and faithfully read and do what the Scriptures instruct. And when that has been done, "...he shall be like a tree planted by the rivers of water, that bringeth forth his fruit in his season."
TBC