I grew up in a non-Christian family, almost entirely ignorant of the Bible, Jesus, and the basics of the gospel. I was registered as a Quaker—to keep me out of the draft, were one to present itself again (flower power, and whatnot)—but this was mostly symbolic, and did not bleed over into any kind of religious upbringing.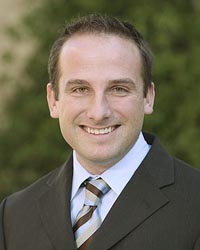 In fact, when I was an eighth-grader I watched a soccer game on TV and noticed a guy in the stands who was holding a sign that said "
John 3:16
." I honestly had no idea that meant, and I asked my dad. When I found out it was a Scripture reference, I tracked down a Bible. First I had to figure out that "3:16" was not a page number, and then sort through the five books in the KJV that bear John's name. But because I thought it was connected to soccer, I was motivated and finally cracked the Bible code and read the verse. This was anti-climactic though, and left me super-confused—I could not figure out what God giving his son had to do with World Cup soccer.
And soccer really was my passion in life. I lived for the next game, knew that the United States would soon have a real professional league, and it was my life goal to get there. I spent my vacations at soccer tournaments, my afternoons on the field, and my evenings watching games on TV. School was a means to an end, and that end was soccer.
But then my senior year in high school I got a new teammate, Tommy. He was younger than me, but he lived in my neighborhood and so we started working out together. We both had much in common (our parents were divorced, we had similar family situations, the same interests) and through the course of the season we became friends. Eventually he began to tell me about Jesus.
At first I was argumentative. I didn't know much anything about the Bible, and so even though I probably would have identified myself as an atheist, I was no Richard Dawkins. Yet I understood that what my friend was telling me was strange, outside of what I knew about the world, and certainly not compatible with the way I was leading my life.
But despite my arguments, Tommy was patient with me over several months he kept telling me about eternal life that Jesus offered.
Tommy had also been urging me to go to church with him, and I had repeatedly declined. Finally though, on Easter Morning, I caved in. That's how I found myself, a few weeks before I graduated high school, going to a church service for the first time in my life.
We began in his youth group, where the leader—who was a student's dad—asked us this question: "Psychologists say that a person's ethics, personality, and character are set in stone by age 7; do you agree with that?"
I thought it sounded reasonable enough, but then he told us that Christians believe in a God that can reach down into the world and change a person at any point in their life.
This absolutely floored me. I knew that Christians believed in God, but I had always imagined what they believed as a form deism. It had never dawned on me that these people believe that God is active in the world, and could even be active in my own heart! I had never heard anything that outrageous before, and I really didn't know how to respond.
When the youth group was over, I staggered into the main service, still reeling from the realization that the conversations I'd been having about Jesus were secondary to this bigger issue—God might be real, and if he is, he can act upon me. I know I'm being repetitive here, but I want to impress on you that this was a new concept for me, and I didn't know how to respond.
It was then that gospel hit me at full speed. The pastor preached on the resurrection (apparently that's what pastors do on Easter), and he told me the truth about the empty grave in Jerusalem. He explained how Jesus' body isn't there, how he died to pay for my sin, and how he came back to life three days later. He kept saying that "the fact that the grave is empty should make all the difference in the world." He told us that it is impossible to know of the empty grave and keep living your life as if someone had not defeated death. "That one fact should change everything about you," he said.
And it did.
There, Easter morning at Grace Church in Albuquerque, I gave my life to the Lord. I believed the gospel, was freed from my captivity to sin and liberated from the shallowness of a life focused on the field.
I remain eternally grateful for Tommy—that he had the courage to befriend me, pray for me, and persistently witness to me. And the Lord's kindness in this is not lost on me: God used what I loved to make himself the love of my life.